About Weather Complaints
What is this site?
This is a personal blog; its content and direction is entirely subject to its owner's whims and pleasures. Maybe you'll find something cool here; maybe not. Maybe it will find a direction or maybe it will wander. I created it as a place to somewhat-anonymously post my own writing and what I find interesting.
I do welcome comments! Most comments will be published on the site, but personal non-publishable ones are also welcome (just let me know that you don't want it published). Do be sure to include an email address if you'd like a response.
The tech philosophy behind Weather Complaints
➡ Technical details about this site can be found at Tech Notes: How This Site Was Made
This is a website; is is just one of many. But I take pains to make this little corner of the web as nice as possible.
Handmade

Weather Complaints is a handmade website.

Lightweight

Pages are kept as lightweight as reasonably possible.

Privacy-respecting

Weather Complaints has no cookies, no cookie banners, no ads, no trackers, no external Javascript, no web fonts, and no analytics scripts. I don't like websites that are slow, track me or try to sell me things, so I try not to be part of the problem.

Compatible

Weather Complaints is designed to work on a wide variety of browsers. It even works in text-only browsers! (For a screenshot, see this Tech Notes post)

Why?

Not everyone has a fast connection. Websites should be usable on slow connections.
You shouldn't have to worry about your privacy when visiting a website.
You shouldn't need an adblocker to have a good experience on a website.
With climate change a major world issue, it doesn't make sense to waste massive amounts of computing power (and thus energy) on a text-based website.
Inspirations
Weather Complaints's web design philosophy was inspired by many, but most recently by https://solar.lowtechmagazine.com , a website that runs on a solar-powered server.
Green Hosting
Weather Complaints is now on a host that uses a combination of renewable energy and renewable energy credits to achieve carbon-neutral hosting.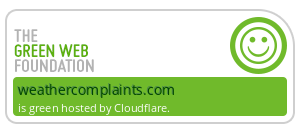 Contact Weather Complaints
Whether you have a question, suggestion, or want to post a comment, please feel free to get in touch.
Please be sure to include your email address if you'd like a reply.
​